Basement window wells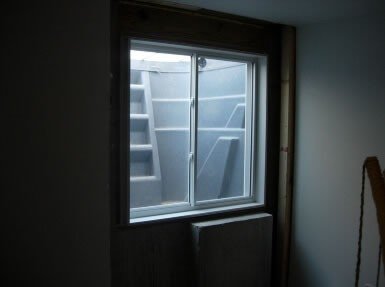 Window wells are compact structures located outside basement egress windows. Window wells frame the egress window, allowing more light to enter the basement while keeping soil and water outside the windows. They are often several feet deep and are packed with a small layer of stones to drain the well.
Window wells tend to be both practical and decorative. Installing a basement window well enables you to improve the natural lighting inside a lower level or basement and transform it into a comfortable, friendly place without spending money on extra lighting. It also provides a safe exit for anyone who is in the basement when an emergency situation occurs.
Dry Right Landscape Well
Will not rust or get dented.
Features a built-in floor for easy maintenance.
Easy and fast installation.
Adds light to your basement.
Dry Right Metal Well
12″, 24″, 30″, 36″ heights and foundation vent area wells also feature rounded bottom corners for additional safety.
Stamped from single metal sheet.
Vibrant finish – add light to your basement.
Holes in flanges for simple bolting to the wall.
Minimum G-60 galvanized finish.
Basement egress window
A basement egress window, and the window well that goes with it, serves many purposes. In addition to providing natural light, these egress basement windows are a safety feature and can provide an escape route for your family in case of an emergency.
Basement windows
ABT Foundation Solutions, Inc. has a unique line of slider windows made specifically for basements. The Right Wall™ Basement Window has an all-vinyl frame that is maintenance-free. It has double weatherstripping on the removable sashes, and half screens that are removable from the inside.