Interior basement waterproofing
Even if you don't have basement wall cracks, water on your basement floor or seeping through the walls, dampness, staining and efflorescence (white powder) are all signs that your home needs a better water control system.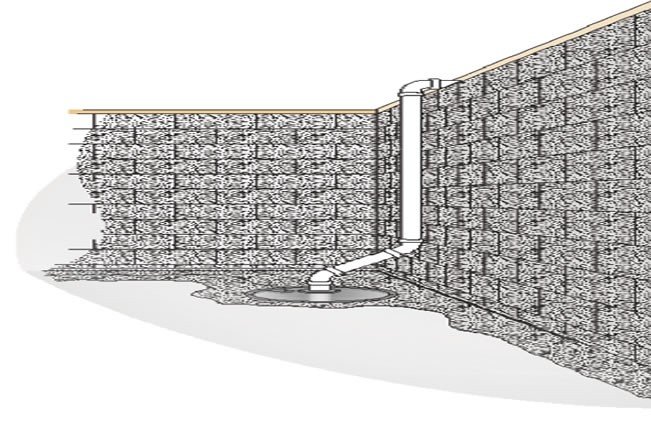 Some homes have been built with drain tile around the foundation. This drainage system funnels rain, ground water and melting snow through the tile to a floor drain or a sump pump system in your basement. Over the years, dirt, tree roots and other debris clog the drain tile and prevent it from functioning properly, resulting in water in your basement.
Whether a new drain tile system needs to be installed or an existing tile system needs to be repaired ABT Foundation Solutions, Inc. can create a dry and comfortable environment for your home without compromising the integrity of your foundation. By installing our Dry Right II™ Water System inside your basement, you can have a waterproof basement with no exterior digging.
Why choose the ABT Dry Right™ Water Control System?
Here's why our system is better.
Deeper installation: ABT's Dry Right II™ Water Channel is positioned correctly next to the foundation footing, rather than on top of the footing. Water is drained away before it reaches your basement floor.
Bigger channels: ABT's Dry Right II™ Water Channel is larger to allow maximum drainage and reduce clogging.
Locking sections: ABT's Dry Right II™ Water Channel sections lock together to form a strong continuous drain. Others are simply taped together.
Access ports: Homeowners can access the system through inspection ports to flush out the system if necessary.
Double filtration: ABT's Dry Right II™ Water Channel is covered with a fabric sock to filter out dirt and debris, when needed.  The channel is entirely surrounded by clean gravel, so there is no direct contact with dirt or mud.
Superior sump pumps: ABT Dry Right II Sump Systems™ are specifically designed to work with new drain tile or existing drainage systems, and ensure maximum protection for your home.
The perforated, patented bell-shape design of the ABT Dry-Right II Sump System™ allows more water into the basin before the pump is activated. This makes it more energy efficient and gives the high volume pump a longer life.
For more detailed information, please download our Water Control Systems brochure (PDF).
An ABT Foundation Solutions, Inc. expert in water control systems will be happy to inspect your home and recommend the best basement waterproofing system. Depending on the construction of your home, we may need to suggest a different system. Please call us at 920-733-4ABT (4228) or contact us online to set up your appointment.