Crawl space repair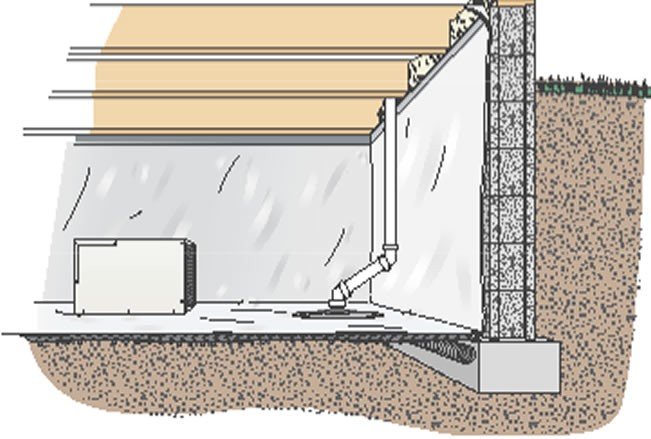 It's easy to forget about the crawl space under your home − until there's a problem.
So what is a crawl space? It's the area between your floor boards and supporting rafters and the ground. It's sort of like a basement but very shallow. You would be unable to fully stand up inside it.  It may or may not be sealed off from the outdoors with a cinder block wall or any other kind of framing. The floor will generally be concrete, gravel, or bare soil.
It's important to keep your crawl space clean and dry. Up to 50 percent of the air in your home can come from your basement or crawl space. But if yours is neglected, it can become the perfect environment for mold, rodents, pests, and moisture to thrive. If your crawl space is dry, you'll have fewer problems with sagging floors, too.
5 steps to seal the space below your home
Remove pest infestations. Dark and moist places like this are breeding grounds for pesky insects and rodents. If you see bugs, spiders or cockroaches in the house, they could be coming from your crawl space. Treating only the inside of your house won't help − the crawl space needs to be treated, too. If we see signs of infestation while we're evaluating your crawl space, we'll refer you to appropriate experts to remove the pests.
Get the moisture out.  Letting water sit in your crawl space can destabilize your foundation, and allow mold and mildew to grow. Adding a  sump pump and water control system may be necessary.
Install a dehumidifier.  A crawl space dehumidifier may be needed to keep humidity levels at 50% or less. ABT Foundation Solutions, Inc. installs dehumidifiers that are made specifically for crawl spaces and are extremely energy efficient.
Seal it. Seal off your space using high-quality encapsulation, or a vapor barrier plastic material. ABT uses the Dry Right Crawl Space Solution™ to line crawl spaces from top to bottom to keep them clean, dry and free from any moisture or pests.
Insulate it. Crawl space insulation will help you make sure your crawl space stays cool in the summer and warm in the winter.
Services and products
ABT Foundation Solutions, Inc. provides a wide range of crawl space services and products for homeowners in our service area.  We work with only the best products in the industry. They are durable, effective and built to last. Contact us today for a free estimate.