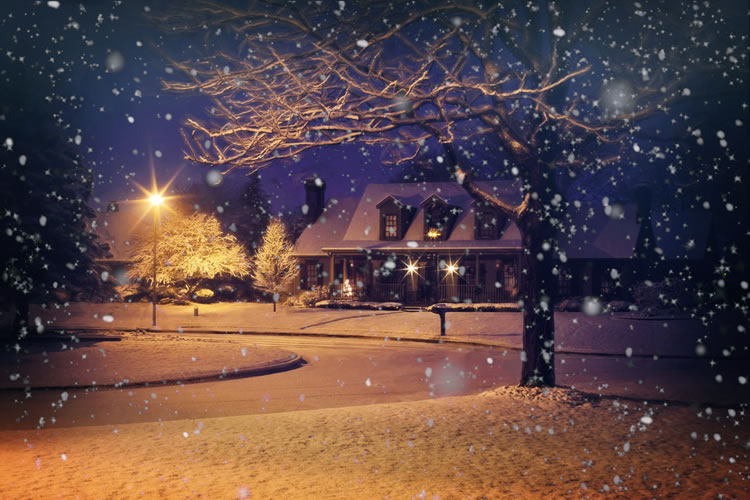 As the snow blows and accumulates throughout the ABT Foundation Solutions service area, you might think your basement is safe from water damage for the winter. Even though that water is frozen, it can still cause problems for your foundation.
"When water accumulates near your home, the water seeps in through the porous surface of cinder and brick. A sudden temperature drop can freeze the water, weakening the integrity of your foundation," according to the experts at Right Way Waterproofing. "When the temperature goes back up, the miniature cracks have grown slightly larger (from the ice), allowing the trapped water to flow more freely into your basement than ever before."
Over time, your foundation walls can crack and move due to a condition called frost heave. According to Basementwaterproofing.com, "Frost heave occurs when the existing moisture in the soil surrounding your home freezes and expands, adding lots of lateral soil pressure to your foundation. This added pressure can easily provide the force needed to produce cracks on your foundation, large or small."
Small cracks under 1/4 inch wide should be sealed with masonry caulk. Contact the experts at ABT Foundation Solutions about repairing and sealing larger cracks.
Even though the snow has already started flying, it's not too late to take steps to prevent winter foundation damage. Here's what you can do:
Check your sump pump: Make sure your discharge line isn't frozen, and that it's properly placed. "Your sump pump is the last line of defense between your basement or crawl space and a total flood, so you need to make sure water is able to flow out of your home," according to Basementwaterproofing.com. "Make sure your discharge lines are pitched on a downward slope, so water is not allowed to rest inside of the line and freeze."basementwaterproofing
If water from the sump pump pools and freezes, your pump may stop working or even become permanently damaged, according to Rightway Waterproofing.
Pile snow away from the foundation: Whether you blow or shovel snow, don't let it accumulate next to your house. "Snow piles are a torrent of water waiting to leak into your home," according to Rightway.
"After a long, cold winter, the heat exchange from the inside to outside walls in the foundation softens the soil, which allows water to seep through the cracks," according to Advantage Restoration and Cleaning. Your basement may have water in it come spring "because the soil surrounding the foundation has become over saturated due to thawing closest to the brick or concrete first."
Clean your gutters: Make sure water is flowing through your gutters, and not up and over them, sending water straight into the foundation.
"Any area that leads to pooling is a source of danger to your foundation," says Advantage Restoration. "With nowhere else to go, the water will leak into your basement, eventually penetrating the walls and causing serious damage."
If you have problems over the winter with cracks or water seepage, contact the experts at ABT Foundation Solutions for a free inspection. Call us at 920-733-4228 (4ABT), or send us an email.
Posted by CatenaCreations
On December 15, 2017