With spring blooming and summer on the way, it's time to check your house and make sure it's ready for summer fun as well as wind and rain. Here are some tips from home care experts that will keep your home and foundation safe throughout the season.
Inside
Check the attic. Look for water stains or mold: "gray or black blotches that look like staining," according to Tim Gentry, vice president of technical services, DaVinci Roofscapes, Kansas City, KS, on BobVila.com. These are signs that water is leaking in. Also check for signs of infestation by insects and pests, which indicate openings that need to be sealed.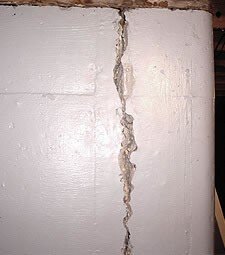 Inspect the basement. Look for:
Dampness. This is a sign of high humidity and not enough ventilation. You may need a dehumidifier and/or a sump pump.
Cracks. These can weaken your foundation and allow water to seep in. ABT Foundation Solutions, Inc. can repair those cracks.
Tunneling on exposed wood. This could be a sign that termites have entered the home.
Outside
Look at the foundation. Outside cracks may not go through to inside walls, so be sure to check the outside walls of your foundation as well.
Clean gutters and downspouts to make sure rain is diverted away from the house. If gutters are clogged, wood trim at the eaves can rot, leaving openings for pests and moisture to enter the attic, according to Houzz. Clogged gutters also can divert water so it overflows the gutters and goes straight into your basement.
Also make sure that downspouts carry water far enough away from your house to protect your foundation. ABT recommends they be 10 to 20 feet long, if you have room.
Check the roof and chimney. While you're cleaning the gutters, take time to look at your roof and chimney. Shingles that have shifted, cracked or been blown off, or nails that have popped up, can let water seep into the attic. If you see masonry that is crumbling or breaking on stone or concrete chimneys, or vegetation growing out of the cracks, those are signs that water is getting in.
Examine exterior walls. Whether you have wood siding, stucco or brick, look for trouble spots, especially under eaves and near gutter downspouts. Water stains normally indicate that your gutters are not adequately containing roof runoff, according to BobVila.com
Check sprinkler and irrigation systems. Make sure water is being used wisely and isn't being directed out into the street or at walls, where it can run down into the foundation.
And then check your yard to see if there are standing puddles. If there are, HGTV suggests filling these low-lying areas in with compacted soil to keep that water from seeping into your foundation. For larger problems, ABT can provide grading solutions to change the contours of your yard.
Inspect concrete around the house. Look at concrete slabs for signs of cracks or movement. All exterior slabs except pool decks should drain away from the home's foundation, HGTV says.
ABT can level out and repair cracks in shifting concrete slabs with our polyjacking process.
If you find problems with your foundation or humidity in your basement or crawl space, give ABT Foundation Solutions, Inc. a call or contact us online. We'll do a free inspection and provide you with an estimate to help you decide how to fix it correctly.
Posted by CatenaCreations
On May 19, 2017