Exterior basement waterproofing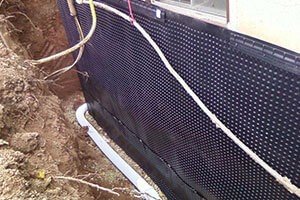 Sometimes a basement seepage problem needs to be taken care of outside of the home through exterior waterproofing systems. Interior basement waterproofing through interior drains is effective if the moisture problem is a result of a leaky cove joint (where the wall meets the floor), or from leaking floor cracks. However, if there's a problem with clogged window well drains, exterior cracks or yard flooding, then an outside system may be the most effective solution.
Waterproofing exterior walls
For basement waterproofing from the exterior, we can install drain tile next to the footing and use a dampproofing tar material on the outside of the foundation walls. We can then install Platon wall board over the foundation. To finish, we will backfill to grade with stone or install a clay cap. We recommend that you place a plastic or rubber membrane on top of the stone or clay cap, and then lay wood chips or decorative stone for an attractive finish.
Downspout extensions
Homeowners often don't realize that water is getting into their basement because the gutter downspout doesn't extend far enough out from the building. If the downspout extensions are too short and too close to the foundation, water will eventually seep into the soil and into your home. ABT will check to see if your need to install downspout extensions.
Yard flooding
If you have problems with your lawn flooding when it rains or when there's melting snow on the property, then you may need to improve the grading. We can provide you with re-grading solutions to take care of the problem and help waterproof your basement.
An ABT Foundation Solutions, Inc. expert in water control systems will be happy to inspect your home and recommend the best basement waterproofing system. Depending on the construction of your home, we may need to suggest a different system. Please call us at 920-733-4ABT (4228) or contact us online to set up your appointment.