About ABT Foundation Solutions, Inc.
Our home foundation repair and basement waterproofing company can waterproof basements, repair basement walls and basement wall cracks, repair foundations which are sinking and settling, waterproof crawl spaces, dehumidify crawl spaces, repair crawl spaces, install sump pumps in basements and crawl spaces, and much more. By choosing a home repair contractor who is able to take care of all these problems, you will preserve your home's structural integrity and value. We've been in business since 2002.
With well over a decade of experience, ABT will fix your foundation, basement, or crawl space issues once and for all! We offer permanent solutions with a transferable warranty and free estimates. We will be there to provide you with reliable service. ABT is an exclusive provider of Dry Right™ Water Control Systems, Dry Right™ Sump Systems and the Right Wall™ Foundation Repair System.
About Eric Turner, President of ABT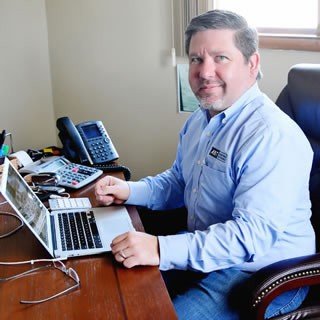 Eric has an unbridled passion for constant improvement and evolution of foundation repair solutions and business management. Eric attends certification classes not only as a student but also as a teacher. With more than two decades of experience, Eric is often asked to lead training sessions across the country, sharing basement repair standards and business fundamentals.
Within the industry, Eric partners with home inspectors, Realtors, government municipalities, engineering firms and general contractors and is sought out to provide an expert perspective. In addition, Eric is a member of the Wisconsin Association of Home Inspectors (WAHI). Within that organization Eric is part of the arbitration board, reviewing any disputes that arise between home inspectors and their clients. In this role Eric must provide non-biased technical expertise, ensuring that an equitable solution is attained for all parties involved.
From the inception of ABT, Eric charted the course to instill four core values for the company:
Be the best.
Provide the best solution.
Use the best product available.
Fix Bad Basements…RIGHT!
Eric ensures that these values can be seen throughout the entire organization and all functions are held to high standards of performance. You will be pleased to work with ABT, as customer service is paramount and there is a sincere desire to solve your problem in the best way possible.
When Eric is away from ABT, he enjoys reading motivational and educational books that inspire his drive for improvement and success.  He also looks forward to vacationing in warm weather destinations with his family.  On the rare occasion when he has alone time, he loves to take rides on his Harley.
Meet the ABT Foundation Solutions, Inc. staff
Dave Brehmer
Dave is the Vice President of ABT Foundation Solutions, Inc., and manages all levels of the company. He has been working in the foundation repair industry since 2000, and he's been exposed to all business functions, making him an effective leader in his current role. Dave's strength is creating a positive work environment which cascades throughout the company. Customer Service and creating tailored solutions make Dave a valued member of ABT and a trusted source in the foundation repair industry.
Dave is actively involved in youth sports events, supporting his children. As time allows, also enjoys playing sports himself. Dave values his time with his wife and kids. Their favorite family activities include camping and their annual trips to Florida. To contact Dave, call 920-733-4ABT ext. 305.
Joe Shipman
Joe has been specializing in foundation repair since 1999 and has earned certifications through many different industry-leading manufacturers. Throughout Wisconsin, Joe has created solutions for nearly 10,000 customers and has experience that will help him solve your specific basement issue.
When not at work, Joe enjoys spending time with his wife and two daughters. Together they look forward to warm weather sports, including boating and golfing. Joe and his family are also avid football and NASCAR fans. To contact Joe, call 920-733-4ABT ext. 312.
Drew Ebben
Drew's customer service experience began in 2006. He has been part of the ABT team for several years. Working closely with our production crews, Drew has gained a great working knowledge of solving foundation problems. Drew's infectious positive attitude and high energy continue to drive his personal success and emulate ABT's core value of fixing bad basements right.
Drew's hobbies include traveling and scuba diving. He is also a proud father of two young children who keep him and his wife very busy. To contact Drew, call 920-733-4ABT ext. 358.
Ryan McKenna
Ryan outstanding customer service experience began in 1998, and his customer service in basement waterproofing and structural repair began in 2006. His experience has given him the opportunity to solve basement problems for thousands of customers. Ryan is a valued member of ABT and a mentor to his teammates.
Ryan and his wife are the proud parents of three children. Together they love the winter months when they can spend time skiing. Ryan's personal hobbies include remodeling projects and furniture reupholstery. To contact Ryan, call 920-733-4ABT ext. 352.
Dan Dillenberg
Dan has a strong customer service background since 2006. He joined the ABT team a few years ago. With previous exposure to the construction industry, Dan continues to build on that knowledge while assisting customers with their basement concerns. Dan's friendly personality and attitude of service are valued when educating customers on the best solutions.
Dan's personal interests include home improvement projects and playing rugby.   Dan also shares his love for the outdoors with his family. To contact Dan, call 920-733-4ABT and ask for ext. 359.
Jessica Kruckeberg
Jess joined ABT in 2014, supporting the business functions and has since had roles with increasing responsibility. In Jess's current role as Office Manager, she oversees all the accounting functions, payroll, human resources and contract management.  Beyond managing various business functions, Jess will coordinate company events, which are vital to creating the family atmosphere that ABT is proud of.
Jess loves to spend time with her husband and together they look forward to hunting, cooking, and Packer season. To contact Jess, call 920-733-4ABT ext. 309.
Bev Blank
Bev joined ABT in 2013 as the Customer Relations Specialist. When calling ABT, Bev is typically the first person you will speak with and she handles each customer phone call as if they were family. She has been working in customer service since 1991. Her experience is unmatched, and her compassion can be seen in all aspects of her role.
In her spare time, Bev cherishes time with her husband and her adult children. Bev's pride and joy are her grandchildren and loves attending their events. When time permits, she looks forward to traveling with her family as well.  To contact Bev, call 920-733-4ABT ext. 303.
Stephanie Lemke
Stephanie is the Service Manager for ABT, which includes coordinating all customer projects from start to finish. With her organizational skills and attention to detail, you can be confident that your project will be completed successfully. Stephanie will be your trusted contact before, during and after your custom project and available to answer any production questions.
Stephanie and her husband enjoy spending time with their dog and going on camping trips. They also enjoy attending hockey games. To contact Stephanie, call 920-733-4ABT and ask for ext. 302.
Jim Egan
Jim Egan has spent most of the last 10 years working with homeowners to protect their residences from the elements.  During this time, he has gained expertise in roofing, basement water control and structural issues, and pavement restoration.
Over the last several years he has worked with hundreds of homeowners, business owners, and many local municipalities, helping them use modern technology to resolve their pavement issues at a fraction of the cost and inconvenience of removing and replacing concrete. He is an expert in using various blends of polymers to precisely lift sunken pavement, and repair the distressed soil responsible for the problem.
Jim brings that experience to ABT Foundation Solutions as our Director of Concrete Lifting Sales. If you have a concern about what to do about settled pavement that has created trip hazards or is allowing water to build up toward your home or foundation, call ABT and let us put Jim's expertise to work for you.
Jim grew up in Appleton, WI. He graduated from Appleton West High School in 1975 and the University of Wisconsin-Madison in 1979.
Jim has two grown children, Jay and Kerry. He lives with his wife Joan, dog Bootie Pie, and cat Chimpee in Neenah, WI.