State-of-the-Art Concrete Leveling Services Available for Homeowners in the Neenah, WI, Area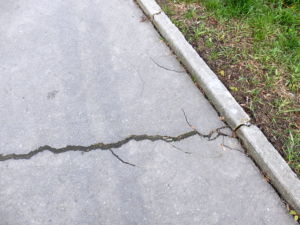 Finding reliable concrete leveling services can be a nerve-wracking experience for homeowners in the Neenah, Wisconsin, area and beyond. If you've noticed that your patio, driveway, or sidewalk has shifted or cracked, you've likely wondered whether you'll need to remove the existing slab and have replacement concrete poured in its place. This can be an expensive and stressful proposition. Luckily, at ABT Foundation Solutions, Inc., we can repair and lift your concrete slab using our advanced polyjacking technique, eliminating the need for a replacement slab.
As the soils below a concrete slab erode over time, voids can begin to form. This can cause the slab to settle and become unleveled or even crack in half. Our innovative concrete leveling method allows us to raise the slab back into place by pumping expanding polyurethane foam into the voided space beneath the concrete. To do this, we first clean the slab and remove any dirt or debris. Then, we drill small holes through the slab at pre-determined spots and inject our state-of-the-art polyurethane foam into the holes. Once the foam is injected, it begins to expand into the empty spaces below the slab, thereby lifting the sunken slab back into place. Finally, we fill and patch the holes that we drilled into the slab to produce a flawless finish.
Some concrete leveling companies in the Neenah, WI, area attempt to repair uneven concrete surfaces using more traditional mudjacking or slab jacking methods. These slab repair techniques are similar to polyjacking, but use a mud-like material instead of polyurethane foam. Here are just some of the benefits that our concrete leveling solution offers when compared to traditional mudjacking or slab jacking:
It lasts longer
It's cleaner
It requires smaller drilling holes
Plus, the innovative polyurethane foam that we use for concrete leveling is backed by an impressive 10-year warranty — one of the longest in the industry — providing you with peace of mind that your investment will be protected for years to come.
To learn more about the concrete leveling services we provide for Neenah, WI, homeowners, please contact ABT Foundation Solutions today.