Foundation repairs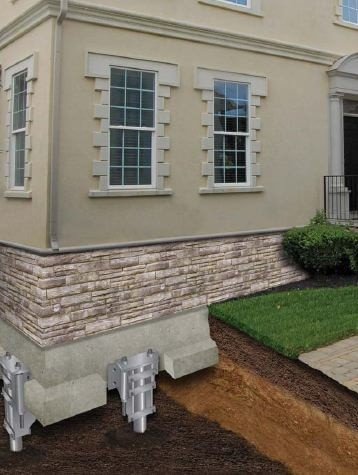 Even the most well-built houses shift over the years. But this movement can cause permanent, ongoing damage to all areas of your home.
ABT Foundation Solutions, Inc. conducts free inspections to help you determine if your foundation repair needs. Please give us a call at 920-733-4ABT (4228) or contact us online if you see any of these signs:
Foundation settlement.
Drywall cracking.
Windows and/or doors sticking.
Bowing or buckling walls.
Cracks in your foundation walls.
After the inspection, we will provide you with an honest opinion on the condition of your foundation. If foundation repairs are needed, we will give you a free written estimate. If not, we'll let you know that, too!
ABT offers a wide range of foundation repair solutions, including slab foundation repair, that accommodate the variety of soil types and conditions found in eastern Wisconsin, and the different types of foundations for houses.
Types of foundations
Most homes in this area are built on a full-basement foundation, a crawl space or concrete slab foundation. Many types of materials can be used to build a full basement or crawl space. These include:
Poured concrete: The most common type of foundation for a crawl space or a full basement, the poured concrete foundation is usually reinforced with steel rebar. Some contractors say it resists water pressure better. Structural foundation cracks are easy to spot.
Cement blocks: This type of foundation is usually made of 8 x 16-inch blocks secured and filled with mortar, and reinforced with steel rebar. Concrete block foundations are easy to install.  If the blocks are not properly filled with mortar and steel, the foundation could be very weak.
Stone: This was used in areas where stone is plentiful, particularly before World War I. Stone foundations look beautiful but require a great deal of maintenance. They need to be repointed and recoated on a regular basis. These homes also need exceptional yard drainage systems, and possibly drain tiles and sump pumps, to prevent bowed walls and serious damage.
Brick: Red brick crawl space and full basement foundations have been built in the U.S. since the early 20th century. When red bricks peel and the mortar disintegrates, foundation walls develop cracks and bow inward.
As we inspect and evaluate your foundation, we also consider the type of soil that surrounds the foundation. Soil plays a factor in making sure repairs are done correctly, and future problems will be avoided. Contact us today to get a free written estimate on your foundation repair.
Realtor and home inspector program
ABT Foundation Solutions, Inc. offers a specialized free home inspection program to assist your clients. ABT will provide a written estimate to both you and your client that details the repairs needed and estimated costs. Contact us today to get started.
Basement wall repair
If you have a bowing and/or cracked basement wall, there is not a one-size-fits-all solution. The basement wall repair should take into consideration the type of wall, the type of soil and future use of the property.
With ABT Foundation Solutions, Inc., you get the correct method the first time to fix your basement wall.
Wall anchors are the most common − and cost-effective − solution for bowed, damaged or buckled foundation wall repair. At ABT, our technicians use the RightWall™ Anchor System and RightWall™ Supports to repair basement cracks. A wall anchor system consists of the following three pieces that work together to right a bowed, buckled or damaged foundation wall:
The plate that is held against the inside of the foundation wall.
A wall anchor which is located in the soil outside the foundation wall.
A steel rod that attaches the plate to the anchor outside.
Another type of anchor is known as a helical tieback anchor, which works to support and strengthen bowing walls.
There are other options for basement wall repair, but they may not be the best ones. They include:
Tear out and replacement: A very expensive process which doesn't address the real problem (the soil). It's a long and disruptive process.
Steel I-beams:  Can't improve or straighten the foundation. They can only support the foundation at its worst point. Rely on wood floor joists for support.
Carbon fiber reinforcement: Can't improve or straighten the foundation. It doesn't protect against tipping in at the top, and also doesn't prevent potential sliding in at the bottom.
Fixing your basement wall permanently
Let's look at some of the considerations when fixing your basement wall.
Know your soil condition. Soil conditions vary greatly throughout the country.  Homes in northeastern Wisconsin are typically surrounded by clay, and sometimes sand. Soil conditions must be known in order to provide the correct solution for basement crack repair.
Your basement wall is unique. A correct solution should be based on the unique conditions found at the home, not a one-size-fits-all approach. At ABT, we have extensive knowledge and experience in basement crack repair, and we have the ability, equipment, products and methods to solve your unique situation.
Remove the problem. To repair a basement wall with more than 1 inch of inward deflection, you must remove the problem. This is why excavation is necessary per ABT standards to remove the clay soil, which causes a huge amount of pressure. There are other methods that do not require excavation and that can sound appealing since they are less disruptive to your yard. However, per ABT standards, this would require a site-specific engineering study to be completed for your specific issue.
If your wall has less than 1 inch of inward deflection, you have three options:
Do nothing to repair at this time. Monitor for future movement and maintain proper landscaping.
Install approved engineered steel supports with proper spacing to support walls.
Excavate exterior soil, straighten as best as possible, support walls with engineered steel supports with proper spacing, install new drain tile and backfill with ¾" clear stone.
Let our experts give you a free written estimate on basement crack repair. Contact us today to get started.