It's that moment every homeowner dreads. You go downstairs to pull a suitcase out of a closet you don't open very often. With those first steps, you hear that "squish, squish" sound from the carpeting that means one thing: You have water in your basement.
Whether it's from a summer downpour or the water heater has leaked, or (even worse) the sewer has backed up, here's what you need to do to clean up your wet basement.
1) Shut off power to the basement, "especially if water rises above electrical outlets," says Cathy Rust, blogger and consultant at becgreen.ca.
Unplug all electronic devices and move them to a safe place to dry. Once you've shut off those circuits at your electrical panel, you can turn the power back on upstairs. You'll need to run extension cords from upstairs to the basement for further clean-up steps.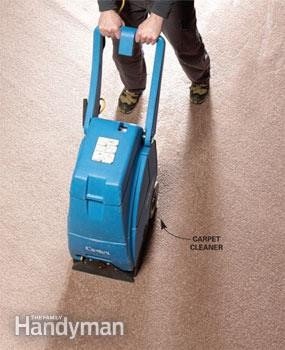 2) Remove the water. If an appliance or pipe has broken, shut off the water supply until repairs can be made.
It's better to try to remove the water than dry it up. "Extraction is 1,200 times more effective than dehumidification," according to The Family Handyman.
You can use a wet/dry vacuum or home carpet cleaner to suck up the water from carpeting if the wet area is small. For bigger problems, it might be better to rent a commercial water extractor or carpet cleaner to make things easier and more effective.
3) Start drying things out. Want to save your carpet and padding? "Once the water is out, peel back the carpeting (watch out for those rusted sharp nails on the tackless stripping) and remove the wet pad," The Family Handyman says. "Cut the pad into strips, roll it up and haul it outside. If the weather is hot, dry and sunny, you can try drying it yourself by rolling it out on your driveway. If that works, you can reinstall it by taping it back together. Just be aware that new carpet pad is cheap, so don't waste a lot of time trying to dry the old stuff."
Once the padding is out, lay the carpet back on the floor. Now it's time to get out the fans to dry it out. If it's really wet or covers a big area, consider renting commercial air movers and a dehumidifier.
And keep things cool, The Family Handyman says. "Keep the basement temperature at or below 75 degrees F. You might think hotter is better because it will dry everything faster. But a higher temp will accelerate bacterial growth and turn your basement into a petri dish."
Once the carpet is drying, check the baseboards and drywall in finished basements. If they're wet, they'll probably need to be replaced. Also inspect the insulation behind the drywall — if that's wet, it will also need to be replaced because it won't dry out.
4) Disinfect and prevent mold growth. If your wet basement was caused by a sewer backup or had standing flood water, you'll want to clean up with bleach or other disinfectant to stop bacteria from growing. And after things have dried out, use a spray to keep mold from forming once cleanup is finished.
No matter how good of a handyman you are, there are times, however, when calling a professional may be needed: a large sewer backup, a broken appliance, water that gets into the furnace, a river flood.
If you need help determining where you basement water is coming from, or you want to make sure your basement is secure, contact ABT Foundation Solutions to set up a no-cost basement inspection. We have dehumidifiers, sump pumps, and other waterproofing solutions to keep your basement dry and foundation strong for years to come
Posted by CatenaCreations
On May 13, 2016