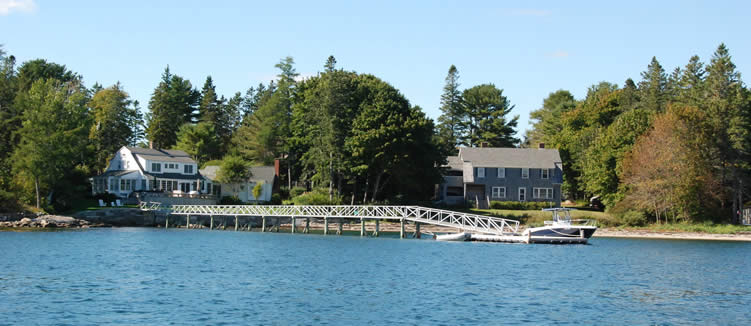 With more than 15,000 lakes in the state of Wisconsin, it's difficult to find someone who hasn't spent any time on at least one of them. Some enjoy life near the water so much that they buy a cabin for vacations and weekend getaways, or make a lakeside house their permanent residence.
Having a home so close to the water means taking extra care to make sure the foundation remains strong and intact. Here are four things to check to keep your foundation stable.
1) Building codes. Wisconsin updated its zoning rules and building codes for lakeside living in 2010, according to Wisconsin Natural Resources magazine. These revisions spelled out how property owners can build or expand their cabins and homes; how they could add or improve docks, sheds and boat ramps; and how surrounding property needs to be managed to protect lakes, wildlife and properties.
Some of these updates had grandfather clauses that allowed less-than-ideal conditions to remain. Local government experts can check to see if your cabin or home is included in these properties, and if upgrades are needed.
2) The water table. This is the layer of soil that remains permanently saturated with water. It's higher near a body of water because water soaks the soil from below, via the lake, and above, via rain or snowfall. Extra steps will need to be taken to improve drainage around the cabin or home to keep the foundation dry.
3) Flood zones. Naturally, a building near a lake is going to be more prone to flooding. You can check the FEMA Flood Map Service Center to see if your lake home is located in a flood plain, and if flood insurance is needed. This can also indicate if other precautions are needed during times of high water levels.
4) Erosion: Erosion happens when soil is dislodged by water falling on or running across bare ground. Impervious surfaces like roofs and driveways can make the problem worse, according to Controlling Runoff and Erosion from Your Waterfront Property: A Guide for Landowners, produced by the Burnett County Land and Water Conservation Department.
"Since impervious surfaces don't allow water to soak into the ground, they create more runoff," the guide says. "The increased amount of runoff water has additional force to erode soil, which may create gullies – deep, eroded trenches" in your property. This can cause major shifts in a foundation.
One of the best ways to keep the ground and foundation stable around your lakeside home or cabin and prevent erosion is planting to cover bare soil, which has many benefits.
"Vegetation helps to reduce erosion by covering the soil, cushioning the impact of raindrops, and slowing runoff water flow," the guide says. "Deep-rooted, native vegetation is especially beneficial for reducing erosion and increasing infiltration. Each layer of vegetation provides particular benefits."
Another good idea is to limit the nonporous surfaces that don't absorb water, and increase the use of porous surfaces. This reduces the amount of runoff that can wash away soil.
Ideas for reducing nonporous surfaces, according to the guide, include:
Use gravel instead of pavement for driveways and sidewalks. Avoid gravel with fine particles and clay, such as Wisconsin Class 5 gravel. These compact and form an impervious surface. Instead use clean 3/4-inch rock or pea gravel.
Install stepping stones for a pathway instead of using concrete.
Avoid compacting soil with heavy equipment. It may take many years for natural processes to restore infiltration rates.
Think small. A structure that covers less surface area will have less of an impact on your lake environment.
Use porous paving materials. These are concrete or asphalt blocks with openings or plastic mesh that can be filled with gravel, sand, or soil and sometimes planted with vegetation. Porous, poured concrete is also available from some contractors. Porous paving materials allow water to soak into the soil.
The University of Wisconsin has published a guide called Choosing the Right Waterfront Property that outlines what you need to consider before purchasing.
If you suspect foundation problems at your cabin or lakefront home, give ABT Foundation Solutions a call at 920-733-4228 (4ABT) or contact us online. We can perform a free inspection and give you a written evaluation of your foundation.
SaveSave
Posted by CatenaCreations
On August 18, 2017