If you live in a slab house with a crawl space, you may have noticed cold floors and colder feet as we move through fall towards winter. You may be wondering if it's time to add insulation to your crawl space.
The answer from experts: a definite Yes! Insulating your crawl space and installing an encapsulation system doesn't just warm up your toes. It lowers your energy bills, protects your pipes, and turns the space into a clean, dry storage area.
Crawl spaces generally have greater height allowances above the ground, explains Erik North, owner and founder of Free Energy Maine. That means a crawl space usually has more wall above the ground than a basement, and more heat is lost through this above-ground area.
Most crawl space walls are made of concrete, which has no insulation value. If your crawl space has a dirt floor, this can allow large amounts of moisture into the space.
"The elevated humidity levels can cause huge problems when we start mucking around with insulation," North explains. "For example, an uninsulated crawl space stays north of the dew point, because of heat radiating from the living space. Add fiberglass batts into the crawl space joists and the crawl space temperature could drop to where condensation becomes possible."
The condensation can cause fiberglass batts to fall and droop, or start to mildew. That won't help your crawl space − or the rest of your house, either.
So, what should you do to insulate your crawl space? Dave Toht has these suggestions on Houselogic.com.
Insulate crawl space walls with rigid insulation. Toht recommends professional installation, because "it's a challenging, time-consuming DIY project."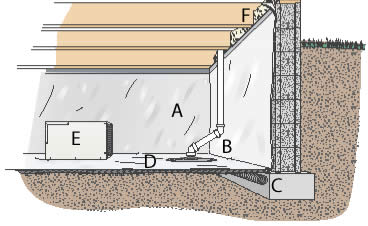 ABT Crawl Space System. A: Dry Right Moisture Barrier. B: Sealed sump pump system. C: Dry Right Pipe. D: Dry Right Floor Membrane. E: Santa Fe Dehumidifier. F: Spray Foam Insulation
When ABT Foundation Solutions, Inc. insulates a crawl space, we place rigid foam insulation around the outside walls of your crawl space, if appropriate. We also line the interior walls with fire-resistant insulation that's placed over the vapor barrier. Joints are taped and sealed.
Remove vents and seal holes. ABT will do this if needed.
Insulate the rim joist with spray foam. ABT uses a closed-cell spay insulation foam to seal and protect the rim joist that rests on top of the foundation, and around any plumbing, electrical or ventilation holes in the subfloor.
Add a vapor barrier. ABT lines your crawl space with the Dry Right™ Conduit. This vapor barrier is a robust multi-layered plastic material reinforced with nylon fibers. It seals out bugs, dirt, rodents, mold and water. It also becomes a waterproof barrier that brightens the area and is strong enough to walk on. The conduit won't rip or puncture, so you can use the area for storage with the assurance that it'll stay safe and dry.
Get rid of moisture. ABT installs the Crawl Space Sump Pump to move water out of your crawl space through a discharge line, where it can drain away from the foundation. This pump's basin is 16 inches tall, making it perfect for smaller areas where a shallow sump pit is needed.
We also install the Santa Fe Advance dehumidifier. Its horizontal design makes it perfect for crawl spaces.
ABT Foundation Solutions, Inc. provides a wide range of crawl space services and products for homeowners in our service area. We work with only the best products in the industry. They are durable, effective and built to last. Contact us today for a free inspection and estimate.
SaveSave
SaveSave
SaveSave
SaveSave
SaveSave
SaveSave
SaveSave
SaveSave
SaveSave
Posted by CatenaCreations
On November 17, 2017