Have a Top-of-the-Line Sump Pump Installed at Your Neenah, WI, Area Home by the Experts at ABT Foundation Solutions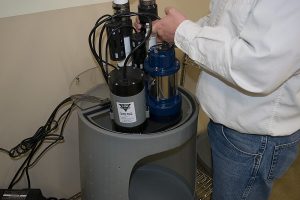 A reliable sump pump can mean the difference between a dry basement and a flooded one. Floodwaters not only cause damage to your foundation and the items stored within your basement, but they can also lead to the growth of mold and mildew and even an increased risk of electrical fires. Having a sump pump installed by ABT Foundation Solutions, Inc., at your Neenah, Wisconsin, area home can help protect your family against these dangers — and more.
The sump pumps we carry are some of the most efficient in the industry. Here are just some of the many benefits they offer to homeowners in the Neenah, WI, area:
They pump three times more water using only half the electricity required by comparable products
Because the bell-shaped design of the basins allows more water to be collected at the bottom, the pumps can run less often and more efficiently, leading to decreased energy consumption and an extended pump life
Clear, sealed lids allow you to easily inspect any water contained within the basins
Dual sump pump switches offer additional protection against flooding
The sealed basins enable the sump pumps to operate more quietly
ABT Foundation Solutions is pleased to carry a wide variety of sump pump models. Some even include a battery backup system, a feature sure to offer you peace of mind during power outages.
If you're interested in having a sump pump installed at your Neenah, WI, area home, please contact ABT Foundation Solutions today. We've been working with homeowners in this area since 2002, and we're proud to have earned the Better Business Bureau's esteemed A+ rating. Let our experts help you design a basement waterproofing solution that's customized to your home and your family's needs.