Foundation and wall crack repairs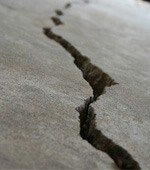 When dealing with foundation crack repair and foundation shifting, it's important to gather detailed information before making repairs.  ABT uses electronic wall monitors to discover the motion of the crack or shifting so we can determine the best solution for your unique situation.  Sometimes, epoxy filler will take care of the issue. More serious cracks and shifts may require stronger, more modern solutions such as applying carbon fiber or steel strips to the affected area.
Wall cracks, especially vertical cracks, appear when a structure is settling or heaving. Horizontal crevices may be brought on by lateral force.  Cracks that are .064 of an inch wide or less usually don't leak. Those that are wider towards the top show settlement.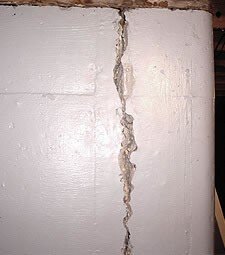 If your foundation has cracks, it's best to speak with one of our foundation experts before water or structural integrity becomes an issue.
Your foundation is like a frozen pond − it can only support weight if the water is solid. Once crevices begin to form in the ice, the ability to safely and properly support weight is compromised. Likewise, if the mortar, brick, and cinder blocks in your foundation are damaged, your home's ability to support weight can ultimately be compromised.
With our ABT electronic wall monitors, we can determine the best foundation repair method for your unique problem. Most cases are small enough that house support is not an issue, but water control is. Small cracks can allow large amounts of water to enter into your basement, and can degrade the foundation over time. Learn about basement waterproofing solutions here.
Basement wall crack repair
Determining the nature of the crack will help identify the very best basement crack repair or basement waterproofing method to fix the problem. Possible solutions include underpinning, injection, wall plate anchors, helical tiebacks, drainage, and/or gutter or downspout repairs.

In many cases, water is usually the culprit for a structural problem. After a foundation has settled, crevices will open up and water will find its way into the living area. If your lawn has standing water after it rains due to poor drainage, this could lead to hydrostatic pressure that can crack or shift a foundation.
Bowed walls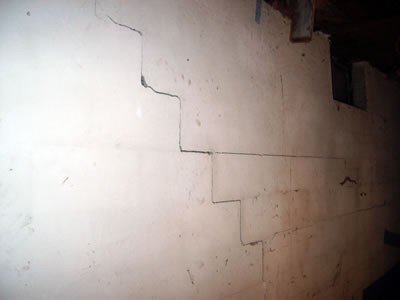 If you live in northeastern Wisconsin in clay soil, this soil can swell with moisture and push against your foundation wall. Waterlogged soil exerts hydrostatic pressure that could push walls in.
Even a small crevice can become something more serious that may wind up costing you thousands of dollars to fix. It's a far better idea to address your tiny problem before it becomes a big one. If your basement wall is pushing in, bowing and/or cracking, it's time to have the foundation experts at ABT inspect it. Contact us today for a free written estimate on basement wall repair.