Crawl space encapsulation and waterproofing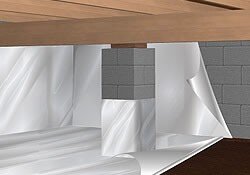 Encapsulating and waterproofing your crawl space can be a critical step in protecting your home. How do you know if you need to waterproof your crawl space? Here are some of the signs:
Stagnant water in your crawl space.
Annoying bugs and rodents inside your home.
Air in your house is significantly moist.
Energy bills are high. The crawl space is sending unheated or uncooled air into your home, forcing your heating and cooling system to work harder.
Floors are sloping. Sagging floors in your home indicate that your wooden beam support system may be at risk. A wet crawl space can ruin your support beams. If your beams start to decay, then your floors will begin to droop.
ABT Foundation Solutions, Inc. uses the Dry Right™ system to waterproof crawl spaces. It is specially engineered to prevent water from moving into livable areas and also stops ground moisture from rotting wood in crawl space areas underneath your home.
We line the entire crawl space with the Dry Right™ Conduit. This vapor barrier is a robust multi-layered plastic material reinforced with nylon fibers. It seals out bugs, dirt, rodents, mold, and water. It also becomes a waterproof barrier that brightens the area and is strong enough to walk on.  The conduit won't rip or puncture, so you can use the area for storage and be sure it'll stay safe and dry.
To find out more about how crawl space waterproofing, contact ABT Foundation Solutions for a free estimate today.