Sump pumps and battery back-up systems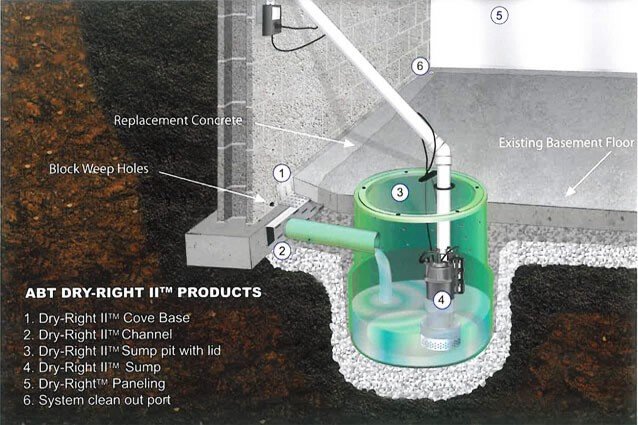 Sump pumps get rid of water that collects inside the sump pit, typically in the lowest area of the basement or crawl space. Water will build up when the water enters through the perimeter drains of the basement system and funnels into your pit. Water can also build up when the basement is underneath the water table level and water leaks into the basement.
When the water fills up the pit, it triggers the sump pump to begin draining water. The sump pump then pumps the water outside and away from the foundation. The sump pump system keeps the basement from getting flooded and aids in waterproofing your basement.
If the primary pump fails for any reason, the battery system will take over and continue to pump water out of your basement. Each battery can provide up to several days of pumping time.
ABT Foundation Solutions, Inc. sells and installs these essential systems across the state of Wisconsin. Contact us today by filling out our online form or calling us at 920-733-4ABT (4228).
Waterproofing components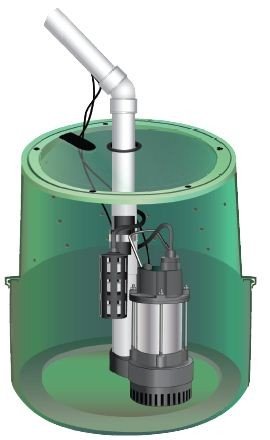 ABT offers the Dry Right™ Sump Pump System, an effective, durable method that keeps water out of your home.
Dry Right™ Sump Pump
Pumps 3X more water using half the electricity.
Dual pump switches give extra protection from flooding.
Saves on energy costs.
Industry-leading pumping capacity.
Keeps harmful ground water out of your home.
Industry-leading warranty.
Gallons/watt hour industry leader.
Back-up systems
The ABT Dry Right™ Battery Back-up System ensures the seamless operation of your system to keep your basement dry and safe no matter the situation.
The monitoring system will sound an alarm when a problem arises. When you consider pumping capacity, energy efficiency, charger strength and monitoring features, you will find that the Dry Right™ is the right choice.
Dry Right™ Sealed Sump Basin
Unique energy-saving design.
Clear, sealed lid for easy inspection.
Patented bell design allows for 40% fewer pump cycles.
Bolted-on lid for safety.
Greatly extends pump life.
Minimizes pump noise.
Seals out moisture and soil gases for a healthier basement.
When you combine the most energy-efficient sump pump and basin on the market today, what you get is the new standard in the industry. This pump will allow more water to collect at the bottom of the basin, effectively letting it run less often and more efficiently, creating longer pump life. Fewer pump cycles means less energy consumption. Less energy consumption means lower energy costs.
Some situations call for higher-power pump. We will suggest a solution customized to meet your needs.
Maintenance
If you are living in an area with the potential for flooding, you should have a sump pump system and schedule regular maintenance. If you don't have your sump pump regularly maintained, you might not know there's a problem with it until your basement is flooded. Avoid this disaster and schedule frequent maintenance checks.
Selecting the best sump pump for your basement is a matter all home owners should take seriously. To get a free estimate on sump pump installation in Wisconsin, contact us today.