Crawl space sump pump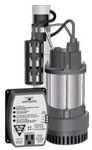 A sump pump moves water out of the crawl space through a discharge line, where it can drain away from the foundation. It is triggered when water gets to a certain level.
ABT offers a variety of crawl space sump pumps for use in homes throughout our service area. We also offer battery back-ups for sump pump systems so make sure your sump pump operates even if you lose power.  Our sump pumps will keep the lower levels of your house dry and safe all year round and use less energy to do so.
The Crawl Space Sump Basin is specifically made for really snug areas. It is shaped from the exact same high-strength, impact-resistant polyethylene as the standard Dry Right Sump Basin, but it's just 16 inches tall. It's perfect for small areas or where a shallow sump pit is needed. This equipment is backed by a lifetime guarantee.
If you are tired of finding water in your crawl space, contact ABT today for a free estimate on a sump pump installation today!