Happy first day of fall! As temperatures cool and leaves change color, thoughts turn to preparing ourselves and our homes for another Wisconsin winter.
Staying warm and dry is important for the health of your family − and your home, too. Here are some fall tips for preparing your house for winter to make sure your foundation remains stable, and water stays outside where it belongs.
1. Fill gaps and cracks.
Sometimes water oozes in through floor or wall cracks, or through openings where pipes pass through. Use caulk or hydraulic cement to fill these openings.
"If the water is coming up through the floor, or at the joint where floor and walls meet, the problem is groundwater, and plugs won't do the trick," according to the experts at HouseLogic.com.
That's when it's time to call the experts at ABT Foundation Solutions. We can do a free inspection to determine how water is seeping in, and the best way to fix it. Call 920-733-4ABT (4228) or contact us online to set up your appointment.
2. Take care of gutters and downspouts.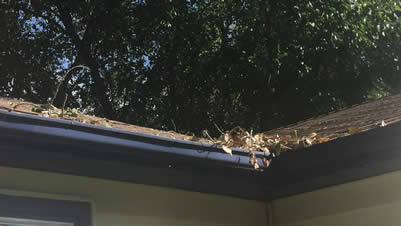 We remind our customers this every fall: Clean your gutters. You may need to do this more than once. Blocked gutters send water spilling over the sides and straight down into your foundation.
After the gutters are cleaned, add extensions to your downspouts if you don't already have them. Make sure the water is being expelled at least 5 feet away from your house.
Also be sure to check and see if your gutters and downspouts are located in the correct places on your roof. Without gutters, or gutters in the wrong places, "rainwater can often be concentrated from many different areas on a roof to one single location next to the house," explains Reuben Saltzman at structuretech1.com. This is demonstrated in the photo below.
"All the highlighted areas dump water in to one single spot next to the house. That's bad news, and in my opinion, bad design," he says.
3. Pile up the dirt.
Over time, the topsoil around your foundation sinks and settles. This soil should be at least 6 inches higher than the first 10 feet of your yard in all directions, according to HouseLogic.
However, don't pile the soil too high. "Since your home's siding slightly overlaps its foundation, building up the crown could bring soil − and rot and termites − too close to siding for comfort: 6 inches is the minimum safe distance," HouseLogic says.
4. Eliminate indoor humidity.
Even though winters can be cold and dry, don't shut off your dehumidifier.
"Generally you don't need to run your dehumidifier during winter due to the relative humidity or dew point being low," says Eric Turner, president of ABT Foundation Solutions. "I recommend just leaving it set as you would during summer. It won't kick in if it is set correctly and it's a high-quality dehumidifier, like our Santa Fe dehumidifiers for basements and crawl spaces."
Other sources of moisture can include leaky dryer vents and condensation dripping from cold pipes, according to FamilyHandyman.com. Connect your dryer hose to the vent with foil tape − duct tape will dry out and fall off over time. Use foam pipe insulation to cover cold pipes so they won't drip, and they won't freeze in extreme cold.
5. Check footing drains.
These are underground pipes that were put in place during construction to channel water away from the foundation, according to HouseLogic. If you have them they are usually accessed through a drain or manhole in your basement floor. There may also be a cleanout pipe with a cap several inches above the floor.
Clogged drains can be cleaned by flushing them with a garden hose. If there's a blockage you can't hose out, you'll need to call a plumber who can clear the pipe with an auger.
If you have concerns about your foundation or water in your basement or crawl space, ABT Foundation Solution can conduct a free inspection, then give you a written evaluation of your foundation. If needed, we will include plans and cost estimates for repairs and maintenance.
Call 920-733-4ABT (4228) or contact us online to set up your appointment.
Posted by CatenaCreations
On September 22, 2017